Social Media by VisiStat
"A Simplified Way for SMBs to Track and Measure their Social Media Activity"
VisiStat's Social Media solution is a new, simple way to track and measure your social media mentions and activity. The new solution helps small businesses make better decisions and increase revenue based on insights gained from social media.
This solution connects ALL the dots around social media by aggregating ALL activity from multiple social media sites, including Facebook and Twitter (LinkedIn, YouTube and Google Plus coming soon!). The solution also provides detailed information on how that activity translates to website traffic and converts to sales - perhaps the most important indicator of the success of any social media strategy. Since it is a cloud-based solution, it is implemented and configured in a matter of minutes. Once configured, this feature instantly starts tracking and measuring your social media mentions and activity based on user-defined keywords.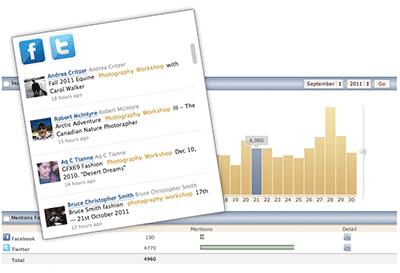 Unlike most social media tracking solutions, it stores and provides access to aggregated information for up to 12 months, enabling businesses to easily monitor the growth and history of their social media participation.
Social media significantly influences customer behavior and is playing an increasingly critical role in day-to-day activities for SMBs. VisiStat makes social media measurement simple, and provides visibility and measurement that is easy to understand. The simplicity and ease of use makes it perfectly suited to SMBs to help them track and leverage their social media participation and improve their online presence and customer engagement.