Get the Alarm Immediately!
There is tremendous value in a monitoring feature that is integrated into all your Web marketing and site reporting. Downtime is lost revenue, the longer the downtime, the more is lost. Stop the loss with PageAlarm.
PageAlarm Features...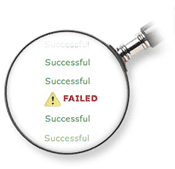 Around the clock monitoring with immediate convenience integrated throughout the entire VisiStat ecosystem!
→ 24x7 Website monitoring
→ Immediate notification
→ Failure tolerance control
→ No software or training needed!